2W EV(Single-speed)
Vs
2W EV(with NHC 6AT)
Performance test

Test Vehicle
2W EV(Single-speed)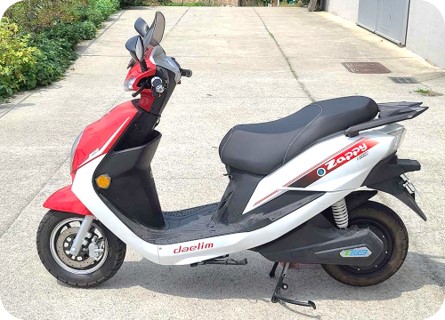 2W EV(with NHC 6AT)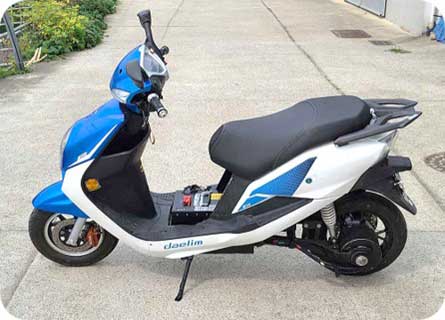 Spec.
Model
2W EV(Single-speed )
2W EV(with NHC 6AT)
Motor
Max 3.6kW
Max 4.5kW (Rated 3.0kW)
Battery
2.37kWh(Lithium ion)
2.37kWh

(Same as single-speed)

Wheelbase
1,305mm
1,350mm
Rear wheel
3.5-10 51J
100/80-12"
Curb weight
106kg
106kg
Transmission
Reducer(single-speed)
6 auto, shift ratio 400%
1st 3.000:1, 2nd 2.235:1, 3rd 1.684:1,
4th 1.286:1, 5th 0.957:1, 6th 0.750:1
※ For having the same test conditions, we adjust the curb weights of two test vehicles of "single-speed" Model and "NHC 6AT" to be
106kg and use the same battery.

NHC 6AT Effect
Performance test
● Date : June 12, 2020
● Test at dynamometer
◎ Top speed
| Item | 2W EV(Single-speed) | 2W EV(with NHC 6AT) |
| --- | --- | --- |
| Speed within 0 ~ 400m | 64.1km/h | 77.6km/h |
◎ Acceleration
| Item | 2W EV(Single-speed) | 2W EV(with NHC 6AT) |
| --- | --- | --- |
| Time to 0~50km/h | 8.7 seconds | 5.6 seconds |
◎ Gradeability
Item
2W EV(Single-speed)
2W EV(with NHC 6AT)
test
times
[%]
[%]
After velocity is stabilized at 5km/h, average grade of last 10m after 50m driving is recorded.
1
27.4 (15.3°)
56.8 (29.6°)
2
20.4 (11.5°)
57.1 (29.7°)
3

18.0 (10.2°)

57.0 (29.6°)
▶ Gradeability of single-speed EV 2W is

radically decreasing

during the continuous hill drive due to overheat,
While EV 2W with NHC 6AT keeps the

almost same gradeability

.
※ All other dynamic performances such as top speed and acceleration of single-speed EV2W drop owing to overheat.
• Test conditions are equalized with the same model and the same vehicle weight (adjusted at 106kg).
• Motor of NHC 6At is manually made for a prototype.Pilot product would be 30% less weight and size than prototype with
increasing stability and efficiency, the motor supplier said.
• Without final shaving and sophisticated design of gears, there are noise at rotating.
At the pilot stage, all problems should be eliminated with precise design and stat-of-the-art manufacturing technology.
• All performances including top speed, acceleration and gradeability should increase with pilot design and production technology
Road tests
● Period : June 6 to 7, 2020
● Venue : Circle drive (10km for one circle) at Dongil-ro Nowon-gu, Seoul , S.Korea (hold raw data)
● Equalizing test conditions : Gross weight 106kg, Lithium ion Battery (2.37kWh)
◎ Road test
Model
Avg. Speed
Driving
Effi.(km/kWh)
Remarks
2W EV(Single-speed)
27.1km/h
58.7km
24.8
•

Efficiency improved by over 30%

despite superior dynamic
performances.
• Considering the higher motor output, the lower efficiency,
we can expect efficiency will increase over 50% if we use the
same motor output.
※The hypothesis above will be tested sooner or later.
2W EV(with NHC 6AT)
27.4km/h
78.9km
33.3
Current consumption graph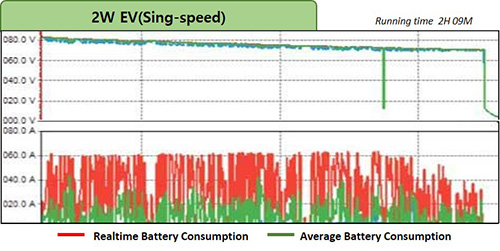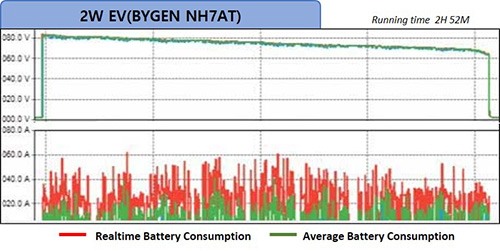 • Single-speed Zappy continuously hit the max 60 ampere at the max output of 3.6KW, as shown in the left-side graph,
which means it could not make sufficient acceleration with using max limited current on the road.
• As shown on the right-side graph,
NHC 6AT provides wide range of torque and rpm
, which makes the motor rotate
at the rated rpm
range at any velocity where it shows the most efficient energy consumption
. At the start, it consumes less energy
using lower gear
with the strongest torque
.
•
Running within the rated rpm
using
6 speed gear shift
does
not create overheat
, which contributes to
higher efficiency rate
◎ Road test place